Professional Wrestling JUST TAP OUT Results: 2022
-
RESULTS: 2022
-
RESULTS: 2021
-
RESULTS: 2020
-
RESULTS: 2019
TAKA Michinoku hat eine neue Liga gegründet. Ab sofort wird er die Geschicke von Professional Wrestling JUST TAP OUT (JTO) leiten. Nach knapp 17 Jahren beim KAIENTAI DOJO musste er die Liga verlassen, die er selbst gegründet hatte, als im letzten Jahr ans Licht kam, dass er über Jahre hinweg eine außereheliche Beziehung führte. Bei seiner neuen Liga wird er wieder auf Nachwuchswrestler konzentrieren. Bei der Debutshow am 08.07.2019 in der Korakuen Hall werden gleich 5 Wrestler und Wrestlerinnen debütieren.

JUST TAP OUT, 04.03.2022
Tokyo Korakuen Hall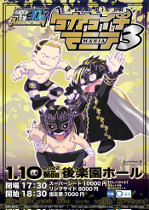 JUST TAP OUT "TAKATAICHI MANIA 3", 10.01.2022
Tokyo Korakuen Hall
783 Fans
1. Fire Katsumi & SEKIYA besiegen Genta Yubari & Akira Jumonji (7:10) nach dem Fire Lock von Katsumi gegen Jumonji.
2. rhythm, Sumika Yanagikawa & Misa Kagura besiegen YAKO, Ram Kaichow & Nao Ishikawa

(7:40) nach einem Sickle Hold von Yanagikawa gegen Ishikawa.
3. T-Hawk

& Arata besiegen Ryuya Takekura & Eagle Mask (8:46) nach dem Night Ride von T-Hawk gegen Eagle.
4. Tomoka Inaba & Aoi besiegen Yuu Yamagata & Maya Yukihi (12:22) nach dem Aoi von Aoi gegen Yamagata.
5. Only Give Up Match: Minoru Suzuki & Zack Sabre Jr.
besiegen KANON & Ren Ayabe (13:00) nach dem Hurrah! Another Year, Surely This One Will Be Better Than the Last; The Inexorable March of Progress Will Lead Us All to Happiness von Sabre gegen KANON.
6. El Desperado
besiegt TAKA Michinoku (17:22) mit dem Pinche Loco.
7. Taichi
besiegt DOUKI (28:49) mit dem Black Mephisto.