Professional Wrestling JUST TAP OUT Results: 2021
-
RESULTS: 2021
-
RESULTS: 2020
-
RESULTS: 2019
TAKA Michinoku hat eine neue Liga gegründet. Ab sofort wird er die Geschicke von Professional Wrestling JUST TAP OUT (JTO) leiten. Nach knapp 17 Jahren beim KAIENTAI DOJO musste er die Liga verlassen, die er selbst gegründet hatte, als im letzten Jahr ans Licht kam, dass er über Jahre hinweg eine außereheliche Beziehung führte. Bei seiner neuen Liga wird er wieder auf Nachwuchswrestler konzentrieren. Bei der Debutshow am 08.07.2019 in der Korakuen Hall werden gleich 5 Wrestler und Wrestlerinnen debütieren.

JUST TAP OUT "KAKU ~ JTO TOURNAMENT FINALS", 19.03.2021
Tokyo Korakuen Hall

JUST TAP OUT "JTO TOURNAMENT ROUND 1", 26.02.2021
Saitama Wrestle Budokan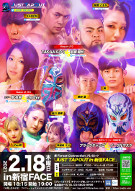 JUST TAP OUT "JUST TAP OUT IN SHINJUKU FACE", 18.02.2021
Shinjuku FACE
- UWA World Light Heavyweight Title: Black Chango (c) vs. Eagle Mask
- Queen of JTO Match: Aki Shizuku vs. rhythm
- King of JTO Match: TAKA Michinoku vs. Ryuya Takekura

JUST TAP OUT "JTO HOUSE", 24.01.2021
Saitama Wrestle Budokan
Die Show wurde als Vorsichtsmaßnahme wegen des Ausbruchs des neuartigen Coronaviruses (SARS-CoV-2) abgesagt.


JUST TAP OUT "HATSU", 15.01.2021
Tokyo Korakuen Hall
194 Fans
1. Eagle Mask, Hyper Brave G-Valion, EX Valion & Carbell Ito besiegen Black Eagle, Black Chango, Black the Dragon & BM with BPM (4:37) nach dem Eagle Breaker I von Eagle gegen Chango.
2. JTO GIRLS Ranking Match: YuuRI [#7] besiegt Sumikaba Yanagawa [#6] (7:01) mit einem Modified Sleeper Hold.
3. Next Queen Challenger - Handicap Match: Tomoka Inaba, rhythm & Misa Kagura besiegen Aki Shizuku & Black R (7:25) nach dem rhythm cross von rhythm gegen Black R.
4. Independent World Jr. Heavyweight Title: Arata besiegt Shota

(c) (4:07) mit einem ART Lock - Titelwechsel (Failed 3rd defense -> 33rd Champion).
5. Shuji Ishikawa
besiegt Ren Ayabe (8:56) mit einem Running Kneelift.
6. Hayato Tamura JUST TAP OUT Affiliation Final Match: Hayato Tamura, Ryuya Takekura & Eagle Mask besiegen TAKA Michinoku, KANON & Arata (17:29) nach dem Ikazuchi von Takekura gegen TAKA.
- Queen of JTO Rankings:
1. Aki Shizuku
2. Tomoka Inaba
3. Black R
4. Black Changita
5. rhythm
6. YuuRI
7. Sumikaba Yanagawa
8. Misa Kagura