Independent Wrestling Results: 2020s
- RESULTS: 2020s
- RESULTS: 2010s
- RESULTS: 2000s
- RESULTS: 1970~1990s
Auf dieser Seite sind die Ergebnisse von verschiedenen Independent Shows zu finden, die in den 2020er Jahren stattgefunden haben.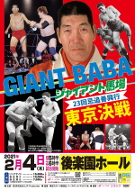 Kyohei Wada & Fumihito Kihara Produce "GIANT BABA DEATH 23RD ANNIVERSARY MEMORIAL SHOW", 04.02.2021
Tokyo Korakuen Hall

Bakuha Koshien, 29.11.2020
Tsurumi Fruit and Vegetable Market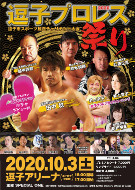 Minoru Tanaka Produce "ZUSHI PRO-WRESTLING FESTIVAL", 03.10.2020
Zushi City Gymnasium (Zushi Arena)
500 Fans - Super No Vacancy Full House
1. Shunsuke Sayama besiegt Takuya Kaiwa (8:49) mit einem Crab Hold.
2. Zushi Sakuraya Man Shocking Debut Match: Zushi Sakuraya Man & Kuniyoshi Wada besiegen Keizo Matsuda & Tetsuya Nakazato (11:26) nach einem Sakurayama Clutch von Sakuraya gegen Nakazato.
3. Carbell Ito besiegt Yoshihiro Horaguchi (12:00) durch DQ.
4. Kyoko Inoue

& Sareee

besiegen Ayako Sato

& Madeleine

(13:54) nach einer Short Range Lariat von Inoue gegen Madeleine.
5. Special Tag Match: Masakatsu Funaki & Naomichi Marufuji

besiegen Shiro Koshinaka & Minoru Tanaka (18:08) nach dem Shiranui von Marufuji gegen Tanaka.


Bakuha Koshien "STREET FIGHT CLUB", 25.08.2020
Tokyo Korakuen Hall
keine Zuschauerangabe
1. The Mystery of Laos! Amazing Mecha Pandita's First Dispatch!: Shunma Katsumata

besiegt Mecha Pandita (10:36) mit einer Diving Body Press.
2. Gakenohuchi Pro vs. Chubby Women's Pro-Wrestling All-Out Competition: Yumehito Imanari

& Yuna Manase

besiegen Chris Brookes & Miyako Matsumoto (11:41) nach einem Dynamic Suzuki von Manase gegen Matsumoto.
3. No DQ Match: T-Hawk

& El Lindaman

besiegen Jiro "Ikemen" Kuroshio & Seigo Tachibana (12:27) nach einem German Suplex Hold von Lindaman gegen Tachibana.
4. STREET FIGHT CLUB Special Match - Royal Road Traditional Match: Jun Akiyama

besiegt Yukio Naya

(12:04) mit einem Exploder.
5. Street Fight Scramble Bunkhouse Death Match: Atsushi Onita, Yuko Miyamoto & Rocky Kawamura besiegen Takashi Sugiura

, NOSAWA Rongai & Kaz Hayashi (15:49) nach einer Chair Attack von Onita gegen NOSAWA.

Bakuha Koshien "BIRTH OF THE EXPLOSION 30TH ANNIVERSARY TOUR ~ BAKUHA KOSHIEN 2020 IN TOYAMA", 28.03.2020
Fukuno B&G Marine Center
1. Bakuha Koshien Tournament in Toyama - Semi Final: Atsushi Onita & Chris Brookes vs. Yumehito Imanari

& Shota


2. Bakuha Koshien Tournament in Toyama - Semi Final: Ken Ohka

& Miyako Matsumoto vs. Kazunari Murakami & Yukio Naya


3. Yuna Manase

vs. Sae
4. Keisuke Ishii

& Gota Ihashi

vs. Kouki Iwasaki

& Shu Sakurai


5. Bakuha Koshien Tournament in Toyama - Final:
Die Show wurde als Vorsichtsmaßnahme wegen des Ausbruchs des neuartigen Coronaviruses (SARS-CoV-2) abgesagt.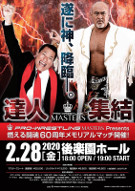 Keiji Muto Produce "PRO-WRESTLING MASTERS", 28.02.2020 (GAORA TV)
Tokyo Korakuen Hall
1,328 Fans
1. FIRST MASTERS Special Singles Match: Mitsuo Momota vs. Hisakatsu Oya - Time Limit Draw (15:00).
2. Lucha Masters Gathering! Special Six Man Tag Match: King Lee, Heat & Tiger Emperor besiegen NOSAWA Rongai, MAZADA & FUJITA (10:50) nach einer Moonsault Press von Lee gegen MAZADA.
3. Great Masters Gathering! Special Tag Match: Hiro Saito & Yutaka Yoshie besiegen Shinjiro Otani
& Tatsuhito Takaiwa
(11:57) nach einem Diving Senton von Saito gegen Takaiwa.
4. Heisei Ishingun vs. Michinoku Masters Special Eight Man Tag Match: Shiro Koshinaka, AKIRA, Masashi Aoyagi & Akitoshi Saito besiegen The Great Sasuke

, Jinsei Shinzaki

, Dick Togo

& HANZO (16:02) nach der Musasabi Press von AKIRA gegen HANZO.
5. PRO-WRESTLING MASTERS Presents Burning Spirit 60th Anniversary Memorial Special Tag Match: Tatsumi Fujinami

& Yoshiaki Fujiwara besiegen Keiji Muto

& Super J with Masahiro Chono (13:08) nach einem Dragon Sleeper von Fujinami gegen Super J.

Toryumon Gym, 31.01.2020 (DG Network)
Tokyo Korakuen Hall
1,890 Fans - Super No Vacancy Full House
0. Exhibition Match: Kento Kobune vs. Masahiro Inoue - Time Limit Draw (0-0) (5:00).
1. TARU, Sumo Fuji & SUWAcito besiegen Takeshi Minamino, Masahiro Takanashi

& CHANGO (10:23) als TARU CHANGO pinnte.
2. Toru Owashi besiegt Konomama Ichikawa (0:30) mit einem Big Boot.
2a. Toru Owashi besiegt Konomama Ichikawa (8:50) durch Submission vor einer Diving Body Press.
3. Time Difference Battle Royal ~ Dragon Scramble: Kanjuro Matsuyama besiegt Hisamaru Tajima & Shachihoko Machine durch Wurf über das Top Rope (14:27). Reihenfolge des Ausscheidens: Karaoke Machine, Darkness Dragon, Amigo Suzuk, Tsubo Genjin, Hisamaru Tajima & Shachihoko Machine.
4. YOSSINO, Condotti Shuji

, "brother" YASSHINI & Milanito Collection a.t. with Pescatore Yagi besiegen SAITO, Kenichiro Arai, Koichiro Arai & Henry III Sugawara
with Anthony W. Mori (15:11) nach der King Kong Lariat von Shuji gegen Koichiro.
5. Genki Horiguchi besiegt Ryo Saito (11:46) mit dem Backslide From Heaven.
6. Ultimo Dragon, Dragon Kid & Second Doi besiegen Masaaki Mochizuki, Susumu Mochizuki & Yasushi Kanda (10:43) nach einer Ultra Huracanrana von Kid gegen Yokosuka.
7. Ultimo Dragon, TARU, Masaaki Mochizuki & YOSSINO besiegen Eita, Big R Shimizu, Diamante & H.Y.O (9:26) nach dem Asai DDT von Ultimo gegen Diamante.