Independent Wrestling Results: 2020s
- RESULTS: 2020s
- RESULTS: 2010s
- RESULTS: 2000s
- RESULTS: 1970~1990s
Auf dieser Seite sind die Ergebnisse von verschiedenen Independent Shows zu finden, die in den 2020er Jahren stattgefunden haben.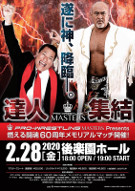 Keiji Muto Produce "PRO-WRESTLING MASTERS", 28.02.2020 (GAORA TV)
Tokyo Korakuen Hall

Toryumon Gym, 31.01.2020 (DG Network)
Tokyo Korakuen Hall
1,890 Fans - Super No Vacancy Full House
0. Exhibition Match: Kento Kobune vs. Masahiro Inoue - Time Limit Draw (0-0) (5:00).
1. TARU, Sumo Fuji & SUWAcito besiegen Takeshi Minamino, Masahiro Takanashi

& CHANGO (10:23) als TARU CHANGO pinnte.
2. Toru Owashi besiegt Konomama Ichikawa (0:30) mit einem Big Boot.
2a. Toru Owashi besiegt Konomama Ichikawa (8:50) durch Submission vor einer Diving Body Press.
3. Time Difference Battle Royal ~ Dragon Scramble: Kanjuro Matsuyama besiegt Hisamaru Tajima & Shachihoko Machine durch Wurf über das Top Rope (14:27). Reihenfolge des Ausscheidens: Karaoke Machine, Darkness Dragon, Amigo Suzuk, Tsubo Genjin, Hisamaru Tajima & Shachihoko Machine.
4. YOSSINO, Condotti Shuji

, "brother" YASSHINI & Milanito Collection a.t. with Pescatore Yagi besiegen SAITO, Kenichiro Arai, Koichiro Arai & Henry III Sugawara
with Anthony W. Mori (15:11) nach der King Kong Lariat von Shuji gegen Koichiro.
5. Genki Horiguchi besiegt Ryo Saito (11:46) mit dem Backslide From Heaven.
6. Ultimo Dragon, Dragon Kid & Second Doi besiegen Masaaki Mochizuki, Susumu Mochizuki & Yasushi Kanda (10:43) nach einer Ultra Huracanrana von Kid gegen Yokosuka.
7. Ultimo Dragon, TARU, Masaaki Mochizuki & YOSSINO besiegen Eita, Big R Shimizu, Diamante & H.Y.O (9:26) nach dem Asai DDT von Ultimo gegen Diamante.