Dradition Pro-Wrestling Results: 2021

-
RESULTS: 2021
-
RESULTS: 2020
-
RESULTS: 2019
-
RESULTS: 2018
-
RESULTS: 2017
-
RESULTS: 2016
-
RESULTS: 2015
-
RESULTS: 2014
-
RESULTS: 2013
-
RESULTS: 2012
-
RESULTS: 2011
-
RESULTS: 2010
-
RESULTS: 2009
-
RESULTS: 2008
-
RESULTS: 2007
-
RESULTS: 2006
Dradition Pro-Wrestling (Dradition = Dragon & Tradition) ist ein Projekt von "Dragon" Tatsumi Fujinami. Ursprünglich startete die Liga im Sommer 2006 unter dem Namen Muga World Pro-Wrestling, abgeleitet vom legendären Wrestling Stil, für den Fujinami bekannt ist. Neben Fujinami, der erst im Verlauf der Planungsphase zu Muga World stieß, waren Osamu Nishimura und der einstige New Japan Ring Announcer Hidekazu Tanaka für die Leistung zuständig. Zusammen mit einigen ebenfalls im Januar 2006 von New Japan entlassenen Wrestlern wollten Fujinami und Nishimura ihre Art des Wrestlings weiterführen, so sollte "der Charme des Wrestlings der 50er und 60er Jahre" durch Muga World wieder aufleben. Neben Fujinami und Nishimura hatten auch Yutaka Yoshie, Mitsuya Nagai, Hiro Saito, Tatsutoshi Goto und Katsushi Takemura (Exklusiv-) Verträge unterschrieben und gehörten somit zum festen Muga World Roster. Geplant war eine richtige full-time Promotion, die regelmäßige Touren abhält. Schnell stellte sich jedoch heraus, dass das Zuschauerinteresse minimal war und mit dem Projekt für die Wrestler keine großen Sprünge möglich waren. Im Oktober 2007 wechselte Nishimura schließlich zusammen mit Muga Rookie Manabu Soya zu All Japan. Einen Monat später verließ auch Tatsutoshi Goto die Liga. Daraufhin entschied sich Fujinami im Jahr 2008 zu einem Neustart unter seiner Führung. Nachdem Yoshie im Juli 2009 die Liga verließ stehen mittlerweile "Old timer" Matches mit Fujinami, Choshu und First Tiger Mask im Mittelpunkt der Shows.

Dradition "TATSUMI FUJINAMI 50TH ANNIVERSARY THE NEVER GIVE UP TOUR PHASE-1", 09.11.2021
Tokyo Korakuen Hall

Dradition "TATSUMI FUJINAMI 50TH ANNIVERSARY THE NEVER GIVE UP TOUR PHASE-1", 31.10.2021
Osaka ATC Hall C Hall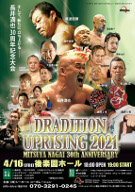 Dradition "DRADITION UPRISING 2021 ~ MITSUYA NAGAI 30TH ANNIVERSARY", 16.04.2021
Tokyo Korakuen Hall
640 Fans - No Vacancy
1. Makai #5 besiegt Kenichiro Arai

(7:25) mit einem Captured Buster.
2. Nobuyuki Kurashima & TAMURA

besiegen Sanshu Tsubakichi & Raimu Imai

(12:38) nach einem Crab Hold von TAMURA gegen Imai.
3. LEONA besiegt Rionne Fujiwara (13:42) mit einem Figure-Four Leglock.
4. Special Tag Match: Shinjiro Otani
& Kengo Mashimo
vs. Daisuke Sekimoto

& KAZMA SAKAMOTO - Time Limit Draw (20:00).
5. Mitsuya Nagai 30th Anniversary Match: Mitsuya Nagai, Kazunari Murakami & Makai #2 besiegen Tetsumi Fujinami, Shiro Koshinaka & Tatsuhito Takaiwa (13:23) nach dem Hyper Knee Kuuga von Nagai gegen Takaiwa.