All Japan Women's Pro-Wrestling Results: 1998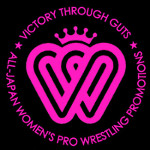 - RESULTS: 1999~2005
- RESULTS: 1998
- RESULTS: 1997
- RESULTS: 1996
- RESULTS: 1995
- RESULTS: 1994
- RESULTS: 1993
- RESULTS: 1968~1992
Victory Through Guts~! All Japan Women's war Joshi Puroresu und Joshi Puroresu war All Japan Women's. Zenjo (japanisch für All Woman) war zum Zeitpunkt seiner Schließung die älteste aktive Pro-Wrestling Liga Japans und war schon 5 Jahre vor der Gründung von All Japan und New Japan Pro-Wrestling, also im Jahr 1968 ins Business eingestiegen. All Japan Women's war die größte, einflussreichste und somit bedeutendste Frauenwrestlingliga Japans. Insgesamt 3 Boomphasen erlebte die Liga in der 37-jährigen Geschichte, die 2005 endete. In den 70er Jahren wurde das Beauty Pair (Maki Ueda & Jackie Sato) zu Popstars, in den 80er sorgte die Fehde der Crush Girls (Lioness Asuka & Chigusa Nagayo) gegen Gokuaku Domei (Dump Matsumoto, Crane Yu, Condor Saito & Bull Nakano) für traumhafte Einschaltquoten im nationalen TV und in der ersten Hälfte der 90er Jahre erlangte die Liga durch die Ära der interpromotionalen Fehden und Matches höchster Qualitätsstandards Rekordumsätze und breite Anerkennung. Den Höhepunkt dieser Zeit stellte eine 10-stündige Tokyo Dome Show dar, die weltweit neue Maßstäbe setzte. Finanzielle Probleme und ein Talenteexodus in der zweiten Hälfte der 90er läutete das Ende der Ligageschichte ein, das 2005 endgültig besiegelt wurde.

Ein auch nur annähernd vollständiges Archiv von AJW wird es vermutlich aufgrund der schlechten Quellenlage niemals geben. Auf diesen Seiten ist dennoch zumindest für die bedeutsamen Jahre 1995 bis 1998 ein kompletter Überblick über die Events und Ereignisse zu finden, ebenso wie für einige ausgewählte Großereignisse aus den Jahren zuvor.

HALL OF FAME FINAL 1998 (25.11.1998 bis 23.12.1998)

AJW "ALL JAPAN WOMEN'S 30TH ANNIVERSARY ~ HALL OF FAME ~ WOMEN'S PRO-WRESTLING HALL OF FAME", 29.11.1998 (TV/Comm. Tape)
Yokohama Arena
7,750 Fans
1. Opening Act: ZAP Isozaki & Chikako Shiratori besiegen Sachie Nishibori

& Yuki Lee (7:27) nach einem Thrust Kick von Isozaki gegen Nishibori.
2. A Typhoon: Rie Tamada
& Mika Akino
besiegen Momoe Nakanishi & Miyuki Fujii (8:52) nach einem Missile Kick von Tamada gegen Fuji.
3. Men & Women & Midget Dangerous Super Mixed Match: Alexander Otsuka

, Yone Genjin

, Kanako Motoya

& Little Frankie besiegen Yuki Ishikawa

, Gran Naniwa

, Emi Motokawa

& Tomezo Tsunokake (11:49) als Frankie Tsunokake nach einer Union Body Press pinnte.
4. J Typhoon: Nanae Takahashi & Tomoko Kuzumi

besiegen Tomoko Miyaguchi

& Rieko Amano

(15:54) nach einem Michinoku Driver II von Kuzumi gegen Miyaguchi.
5. All Japan Tag Team Title: Miho Wakizawa & Kayo Noumi besiegen Yuko Kosugi

& Sumie Sakai

(c) (11:45) nach einem Modified Double-Wrist Armsault von Noumi gegen Sakai - Titelwechsel.
6. All Pacific Title: Yasha Kurenai

besiegt Kumiko Maekawa (16:29) mit einem Avalanche-Style Kurenai Suplex - Titelwechsel.
7. L Typhoon: Shinobu Kandori

& Harley Saito

besiegen Takako Inoue & Noriyo Tateno

(15:27) nach einem Modified Cross Armbreaker von Kandori gegen Inoue.
8. It's Wrong! Super Heel Tag Match: Eagle Sawai

& Shark Tsuchiya besiegen ZAP I & ZAP T (10:38) nach einer Eagle Cannon Bomb von Sawai gegen ZAP I.
9. LEGEND OF WWWA Former Belt Holders Six Woman Tag Match: Jaguar Yokota

, Devil Masami

& Lioness Asuka vs. Aja Kong, Dynamite Kansai

& Yumiko Hotta (30:00).
10. AAAW Singles Title ~ THE DREAM CAME TRUE: Chigusa Nagayo

(c) besiegt Manami Toyota (14:42) mit einem Octopus Hold (1st defense).

TAG LEAGUE THE BEST 1998 (10.10.1998 bis 22.11.1998)

ZENJO "SHUN" 1998 (15.08.1998 bis 08.10.1998)

AJW "KAWASAKI CRIMSON STRUGGLE", 23.08.1998
Kawasaki City Gymnasium
4,350 Fans - Super No Vacancy
1. Noriko Toyoda besiegt Tomoka Isozaki (6:32) mit einem Cradle.
2. Takako Inoue besiegt Sachie Nishibori (0:52) mit einer Powerbomb.
3. All Japan Tag Team Title, Decision Match: Momoe Nakanishi & Nanae Takahashi besiegen Sumi Sakai

& Megumi Yabushita

(21:42) nach einer Body Press von Takahashi gegen Yabushita - Titelwechsel.
4. Glove Match Kick Boxing Rules: Kumiko Maekawa besiegt Nong Khiaw Sopakaew (R5 2:00) durch Decision.
5. ZAP I & ZAP T besiegen Yumiko Hotta & Miho Wakizawa (22:21) nach einem Double Footstomp von ZAP I gegen Wakizawa.
6. WWWA World Singles Title: Shinobu Kandori

(c) besiegt Manami Toyota (18:08) mit einem Modified Cross Kneelock (2nd defense).

JAPAN GRAND PRIX 1998 (14.06.1998 bis 09.08.1998)

ZENJO "RAN" 1998 (11.04.1997 bis 13.06.1998)

AJW "FUJI TV ODAIBA SPECIAL MATCH", 11.02.1998
Tokyo Fuji TV V4 Studio
250 Fans
1. Manami Toyota besiegt Tomoko Watanabe (14:34) mit dem Japanese Ocean Cyclone Suplex Hold.
2. Chiharu

besiegt Noriko Toyoda (5:20) mit dem Chiharu Special.
3. FORCE-4 Scramble Bout: Yumiko Hotta, Kumiko Maekawa, Miho Wakizawa & Kayo Noumi besiegen Kaoru Ito, Emi Motokawa

, Miyuki Fujii & Sachie Nishibori (13:16). Ito besiegte Noumi mit einem Rolling Senton (0:43). Ito vs. Hotta - Time Limit Draw (5:00). Wakizawa besiegte Nishibori mit einem Fisherman Suplex Hold (2:39). Wakizawa besiegte Fujii mit einer Diving Body Press (1:32). Motokawa besiegte Wakizawa mit einem La Magistral (0:45). Maekawa besiegte Motokawa mit einem Heel Drop (2:37).
4. Eagle Sawai

& Sayuri Okino

besiegen Takako Inoue & Momoe Nakanishi (13:25) nach einem Fisherman Suplex Hold von Okino gegen Nakanishi.
5. Exhibition Match: Kyoko Inoue vs. Toshiyo Yamada

- Time Limit Draw (5:00).

NEW YEAR ZENJO "VOW" 1998 (03.01.1998 bis 05.04.1998)