All Japan Pro-Wrestling Results: 2019

SUMMER EXPLOSION 2019 (11.08.2019 bis 03.09.2019)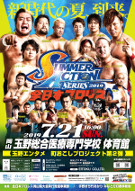 SUMMER ACTION SERIES 2019 (17.07.2019 bis 28.07.2019)

AJPW "CHIBA EXTRA DREAM IN NARITA", 13.07.2019
Narita View Hotel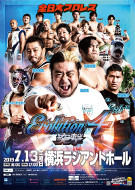 AJPW "EVOLUTION 4 ~ ASSAULT", 13.07.2019
Yokohama Radiant Hall

AJPW "FAN APPRECIATION DAY ~ SUMMER FESTIVAL 2019", 10.07.2019
Tokyo Korakuen Hall

AJPW "CAMPUS SERIES VOL. 2", 07.07.2019
Hokkaido Medical Sports College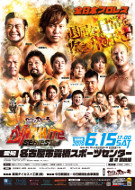 DYNAMITE SERIES 2019 (15.06.2019 bis 30.06.2019)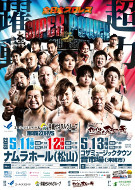 SUPER POWER SERIES 2019 (11.05.2019 bis 02.06.2019)

AJPW "OSAKA PRO-WRESTLING FESTIVAL SUPPORTED BY AJP", 05.05.2019
176 BOX (Toyonaka City)
576 Fans - Super No Vacancy Full House
1. All Japan Young Rival Confrontation: Hokuto Omori besiegt Atsuki Aoyagi (8:46) mit einem Jumping Cross Armbreaker.
2. Osaka Famous Fun Match: Atsushi Maruyama, Billy Ken Kid & Ranmaru besiegen Takoyakida, Ultimate Spider Jr. & Rina Yamashita (11:22) als Maruyama Takoyakida pinnte.
3. Osaka Young vs. All Japan Young: Yusuke Okada & Dan Tamura besiegen Yuto Kikuchi & Harutoki (13:05) nach einem Figure-Four Leglock von Okada gegen Harutoki.
4. Team Osaka vs. Land's End: Ryouji Sai, Kotaro Nasu, Takashi Daimonji & Kyosuke Ikaho besiegen TORU, Magnitude Kishiwada, Katsumi Oribe & Shoichi Uchida (19:21) nach einem Avalanche-Style Brainbuster von Sai gegen Uchida.
5. Osaka Ultimate Confrontation: Zeus besiegt The Bodyguard (19:05) mit einem Jackhammer.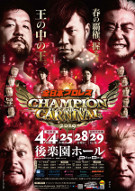 CHAMPION CARNIVAL 2019 (04.04.2019 bis 29.04.2019)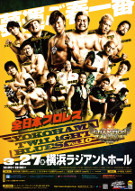 AJPW "YOKOHAMA TWILIGHT BLUES VOL. 10 ~ THE ROAD TO 2019 CHAMPION CARNIVAL", 27.03.2019 (AJPW.tv)
Yokohama Radiant Hall
296 Fans - No Vacancy
1. Yusuke Okada besiegt Hokuto Omori (7:53) mit einem Crab Hold.
2. Atsushi Aoki & Hikaru Sato besiegen Atsuki Aoyagi & Dan Tamura (8:25) nach einem Backdrop Suplex von Aoki gegen Tamura.
3. Takao Omori, Black Menso~re & Yutaka Yoshie besiegen Jun Akiyama, Atsushi Maruyama & KAI (11:05) nach einer Diving Body Press von Yoshie gegen Maruyama.
4. Ryuichi Kawakami

& Kazumi Kikuta

besiegen Koji Iwamoto & Akira Francesco (10:22) nach einem High Kick von Kikuta gegen Francesco.
5. The Road to Champion Carnival Block B Special Tag Match: Suwama & Naoya Nomura besiegen Jake Lee & Yoshitatsu (16:00) durch Referee Stop (Suwama besiegte Yoshitatsu mit dem Suwama Fantasy).
6. The Road to Champion Carnival Block A Special Tag Match: Kento Miyahara, Shuji Ishikawa & Zeus besiegen Yuma Aoyagi, Yuji Okabayashi

& Dylan James (20:52) nach einem Splash Mountain von Ishikawa gegen Aoyagi.


DREAM POWER SERIES 2019 (09.03.2019 bis 24.03.2019)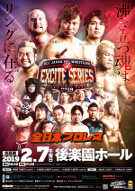 EXCITE SERIES 2019 (07.02.2019 bis 24.02.2019)


NEW YEAR WARS 2019 (02.01.2019 bis 20.01.2019)