New Japan Pro-Wrestling Results: NJPW in USA 2023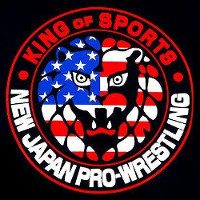 -
RESULTS: 2023
-
RESULTS: 2022
-
RESULTS: 2021
-
RESULTS: 2020
-
RESULTS: 2011~2019
New Japan erobert Amerika! Seit vielen Jahren macht die amerikanische Topliga WWE jährliche Stopps in Japan und hält dort Shows in den großen Arenen wie Nippon Budokan und Ryogoku Kokugikan in Tokyo, Osaka Prefectural Gymnasium oder Saitama Super Arena ab. Mit Shinsuke Nakamura, AJ Styles, Karl Anderson (alle 2016) sowie KENTA (Hideo Itami) und Prince Devitt (Finn Bálor) (beide 2014) hat der Marktführer von New Japan und NOAH über die Jahre einige Topstars abgeworben. New Japan antwortete darauf mit einer verstärkten Präsenz in den USA, um sowohl den eigenen Stars eine Chance zu geben in den USA wrestlen zu können und es den Gaijins zu ermöglichen im Heimatland am Erfolg von New Japan mitzuhelfen.

New Japan hat immer mit verschiedenen Promotions in den USA, Mexiko und dem Rest der Welt zusammengearbeitet, damit die eigenen Wrestler dort Erfahrung sammeln können. Seit 2004 kooperiert die Liga mit Ring of Honor und pflegte auch mit iMPACT Wrestling (früher Total Nonstop Action Wrestling) eine Zusammenarbeit. Zu speziellen ROH Shows werden schon einmal eine handvoll Wrestler auf einmal geschickt. Eigene US-Shows unter dem NJPW Banner veranstaltet die Liga allerdings erst seit 2011. Beim ersten Versuch in den USA Fuß zu fassen, machte NJPW einen dreitätigen Halt an der Ostküste. Dabei wurde in einem Turnier der erste IWGP Intercontinental Champion ermittelt. Obwohl NJPW Veranstalter der Shows war, wurden die Events in enger Kooperation und unter Verwendung der Ringe von Jersey All Pro Wrestling (JAPW) veranstaltet. Auch wenn es New Japan Shows waren, hatten die Events nicht ganz die Ausstrahlung echter New Japan Events.

Es dauerte sechs weitere Jahre bis NJPW erneut einen Abstecher in die USA wagte. Mit einer G1 Special Doppelshow und abermals mit einem Turnier machte NJPW die Westküste des Landes unsicher. Der IWGP US Heavyweight Title wurde eingeführt und sollte verdeutlichen, dass NJPW nun am Plan eine dauerhafte Präsenz in den USA aufrechtzuerhalten festhalten würde. Zwischenzeitlich hatte die Liga mit AXS TV einen TV-Partner gefunden, der zwsichen Januar 2015 und Dezember 2019 Zusammenfassungen von New Japan Shows aus Japan zeigte. NJPW Besitzer Takaaki Kidani unterstrich bei einem Pressetermin im Mai 2017, bei dem er die künftige Strategie von NJPW offenlegte, dass die weltweite Expansion eine wichtige Säule sein wird. Da die zwei "G1 SPECIAL IN USA" Shows im Juli 2017 ein voller Erfolg waren - die je ca. 2,300 Tickets waren binnen weniger Minuten ausverkauft - kehrte die Liga im März 2018 mit "STRONG STYLE EVOLVED" an die Wetsküste zurück. Auch diese Show war mit ca. 4,300 Zuschauern umgehend ausverkauft. Gleichzeitig hat NJPW ein Dojo in Los Angeles eröffnet. Als Head Trainer wurde Katsuyori Shibata ernannt.

Der legendäre Cow Palace in San Francisco war im Juli 2018 Austragungsort eines Großereignisses mit mehr als 6,300 Zuschauer und 5 Titelmatches. Gefolgt wurde dieses Event von der "G1 SUPER CARD", einer gemeinsamen Show von NJPW und ROH im mit mehr als 16,500 Zuschauern ausverkauften New Yorker Madison Square Garden. Der G1 Climax machte sodann ebenfalls sein Debüt in den USA mit einer Show in Dallas, Texas. Dies war die erste Show in der 29-jährigen Geschichte des Turniers, die außerhalb Japans stattfand. Um das beeindruckende Jahr 2019 in den USA abzurunden, fand im August noch eine dreitätige Ausgabe des Super J-Cup statt, ebenfalls die erste Ausgabe außerhalb Japans, und der US-Abschied von Jushin Thunder Liger im November.

Dass New Japan die Präsenz in den USA ausweitet, war im Herbst 2019 unverkennbar. Dennoch überraschten die Ligabosse am 21.10.2019 mit einer Pressekonferenz, bei der sie die Gründung von New Japan Pro-Wrestling of America, Inc. verkündeten, einem US-Ableger der die Expansion in den USA vorantreiben wird. Hinter der verstärkten US Präsenz stehen ambitionierte Pläne. Die Anzahl der Live Shows sollen auf 25-30 ausgeweitet werden. An der Westküste wurden 6 Städte für künftige Shows ausgemacht, in Texas 4, an der Ostküste 4 und im Südosten weitere 6.

Durch die weltweite Coronapandemie im Frühjahr 2020 wurden die Pläne ordentlich durcheinander gebracht. Anstatt Veranstaltungen in den ausgewählten Zielmärkten zu veranstalten, reagierte New Japan auf die Einschränkungen des öffentlichen Lebens und den Verlust des AXS TV Sendeplatzes mit der Einführung einer wöchentlichen einstündigen TV Show ("NJPW Strong"), die ab dem 07.08.2020 auf NJPW World ausgestrahlt wurde.

NJPW "COLLISION IN PHILADELPHIA", 16.04.2023
2300 Arena, Philadelphia, Pennsylvania, USA

NJPW "CAPITAL COLLISION 2023", 15.04.2023
Entertainment & Sports Arena, Washington DC, USA

NJPW "BATTLE IN THE VALLEY", 18.02.2023 (PPV)
San Jose Civic, Kalifornien, USA
0. Alex Coughlin vs. JR Kratos
0. David Finlay vs. Bobby Fish
- KUSHIDA, Volador Jr., Kevin Knight & The DKC vs. Josh Alexander

, Mascara Dorada, Adrian Quest & Rocky Romero
- Filthy Rules Fight: Homicide vs. Tom Lawlor
- STRONG Openweight Tag Team Title: Chris Sabin

& Alex Shelley

(c) vs. Royce Isaacs & Jorel Nelson
- Jay White vs. Eddie Kingston


- STRONG Openweight Title: Fred Rosser (c) vs. KENTA
- IWGP Women's Title: KAIRI (c) vs. Mercedes Moné
- IWGP World Heavyweight Title: Kazuchika Okada/Shingo Takagi (c) (11.02.) vs. TBA

NJPW "NEMESIS", 28.01.2023 (NJPW Strong)
The Vermont Hollywood, Los Angeles, Kalifornien, USA
1. Blake Christian besiegt Keita (7:17) mit einem Curb Stomp.
2. Mistico besiegt Misterioso (12:08) mit dem La Mistica.
3. STRONG Openweight Title: Fred Rosser (c) besiegt Peter Avalon (12:08) mit einem Chickenwing STF (7th defense).

NJPW "NEMESIS", 21.01.2023 (NJPW Strong)
The Vermont Hollywood, Los Angeles, Kalifornien, USA
1. Royce Isaacs & Jorel Nelson besiegen Cody Chhun & Guillermo Rosas (10:37) nach einem Elbow Drop von Nelson gegen Chhun.
2. KENTA besiegt QT Marshall (12:35) mit dem Go 2 Sleep.
3. STRONG Openweight Tag Team Title: Chris Sabin

& Alex Shelley

(c) besiegen Rocky Romero & Trent Beretta

(18:12) als Sabin Romero nach der Dirt Bomb pinnte (2nd defense).

NJPW "NEMESIS", 14.01.2023 (NJPW Strong)
The Vermont Hollywood, Los Angeles, Kalifornien, USA
1. Mascara Dorada besiegt Che Cabrera (7:21) mit einem Elbodrada.
2. Homicide, Eddie Kingston

& David Finlay besiegen Tom Lawlor, Bobby Fish & Danny Limelight (9:40) nach dem Trash Panda von Finlay gegen Limelight.
3. Jeff Cobb besiegt Bad Dude Tito (7:33) mit dem Tour of the Island.

NJPW "NEMESIS", 07.01.2023 (NJPW Strong)
The Vermont Hollywood, Los Angeles, Kalifornien, USA
1. Jay White & El Phantasmo besiegen Hikuleo & Alan Angels (8:47) nach einem Burning Hammer von Phantasmo gegen Angels.
2. STRONG Survivor Match - STRONG Openweight Title Contendership: KENTA besiegt Wheeler Yuta mit dem Go 2 Sleep (15:45). Weitere Teilnehmer: Rocky Romero, Mascara Dorada, The DKC, JR Kratos, Christopher Daniels

, BATEMAN, Misterioso, Cody Chhun, Guillermo Rosas, Che Cabrera, Blake Christian, Adrian Quest, Keita & Jakob Austin Young.
* Match begann als Battle Royal bis 4 Personen verblieben, dann wandelte sich das Match zu einem 4 Way Elimination Match (Sieg durch Pinfall oder Submission)