Wrestling International New Generations Results: 2000s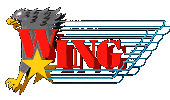 - RESULTS: 2000s
- RESULTS: 1995
- RESULTS: 1994
- RESULTS: 1993
- RESULTS: 1992
- RESULTS: 1991
Wrestling International New Generations (W★ING) war eine zwischen 1991 und 1994 bestehende Hardcore Wrestling Liga. Sie wurde von Kazuyoshi Osako and Kiyoshi "Mickey" Ibaragi gegründet, nachdem die beiden Atsushi Onita's FMW im Sommer 1991 verlassen hatten. Osako fungierte als Präsident der neuen Liga, Ibaragi als Vizepräsident. Durch ihre guten Kontake zu FMW, der ersten und damals führenden Death Match Wrestling Liga des Landes, gelang es Mr. Pogo und Victor Quiñones zu W★ING zu locken. Mr. Pogo war einer der ärgsten Widersacher von Atsushi Onita und Top Star von FMW, während Quiñones als Puerto-ricanischer Promoter für die Bookings der ausländischen Wrestler zuständig war, vornehmnlich der aus der Karibik.

Während seiner Existenz war W★ING für wilde Death Matches mit Barbed Wire, Feuer, Baseball Bats, Spike Nail Boards und anderen verrückten Gimmicks bekannt. Außerdem machte die Liga das japanische Publikum mit den Monster Gimmicks von Leatherface, Jason The Terrible, Crypt Keeper und Freddie Krueger bekannt. Durch die enge Verbindung in die Karibik wurden viele Gastwrestler von WWC (World Wrestling Council) gebookt. WWC Caribbean Heavyweight Title und WWC World Jr. Heavyweight Title wurden regelmäßig bei W★ING ausgekämpft, ebenso wie die eigenen World Heavyweight und World Tag Team Title.

Am 21.03.1994 schloss W★ING in Folge von Missmanagement und erheblicher finanzieller Probleme seine Pforten. Victor Quiñones gründete danach umgehend IWA Japan und führte den Stil von W★ING damit nahezu 1:1 fort. Viele der W★ING Wrestler schlossen sich der neuen Liga an. Mr. Pogo, Mitsuhiro Matsunaga und Hideki Hosaka hatten die Liga wegen finanzieller Probleme schon im Sommer 1993 wieder in Richtung FMW verlassen. Yukihiro Kanemura & Hido folgten ihnen im Herbst 1994, woraufhin sie zusammen die W★ING Alliance gründeten, ein Outsider Stable, das die Vorherrschaft bei FMW erlangen und FMW aus dem Geschäft drängen wollte. Unter dem Banner der W★ING Alliance veranstalteten sie einige eigene Shows, bevor das Stable am 28.09.1997 in Folge einer Niederlage gegen Atsushi Onita aufgelöst wurde.

Seit 1995 hat Ibaragi mehrfach W★ING Reunion Shows abgehalten. Aufgrund der treuen Fanbasis lebt der W★ING Spirit bis heute weiter. Obwohl die Liga immer nur die Nr. 2 Hardcore Liga nach FMW war, erinnern sich viele Fans auch mehr als 20 Jahre nach dem Ende von W★ING mit Wohlwollen an diese revolutionäre Liga.

W★ING "W★ING DESIRE FOR BLOOD 2001", 11.12.2001
Tokyo Korakuen Hall
444 Fans
1. Slim besiegt Hiroshi Shimada (2:13) mit einer Body Press.
2. Caribbean Angel besiegt Yukihide Ueno (14:04) mit dem Angel Dust.
3. Masayoshi Motegi vs. Masaru Toi - Double KO (8:34).
3a. Masayoshi Motegi besiegt Katsunari Toi (2:08) mit einem La Magistral.
4. Tournament - Round 1: Messiah besiegt Ryo Miyake (15:12) mit einem Senton.
5. Tournament - Round 1: Jason the Terrible besiegt YOSHIYA (11:56) mit einer Northern Light Bomb.
6. Kim Duk & Slim besiegen Mr. Pogo & Tomoaki Honma (8:42) durch Chain Hanging von Duk gegen Pogo.