PURE-J Results: 2017
Als im April 2017 nach 25-jährigem Bestehen die älteste aktive japanische Frauen-Wrestlingliga JWP aufgrund eines Disputs mit dem Rechteinhaber ihre Pforten schließen musste, gründeten die Wrestlerinnen rund um Command Bolshoi eine Nachfolgeliga: PURE-J! Die Liga folgt dem Vorbild von JWP und konnte sich die Rechte an dem POP (Princess of Pro-Wrestling) Title und dem Daily Sports Tag Team Title sichern. An die übrige, umfangreiche Titelhistorie von JWP kann PURE-J jedoch nicht anknüpfen und wird daher mit dem Start im August 2017 versuchen eine neue Geschichte aufzubauen.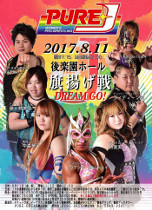 PURE-J "PURE-J WOMEN'S PRO-WRESTLING ~ DREAM GO!", 11.08.2017
Tokyo Korakuen Hall
1,041 Fans
1. Dream of 7colors The BOLSHOI: Command Bolshoi besiegt Konami (7:21) mit einem Stretch Plum Kai.
2. Special Tag Match Road to PURE-J open class: Manki Natsumi & Alex Lee besiegen Aoi Kizuki & Saori Anou (7:37) durch Modified Pinfall von Natsumi gegen Kizuki.
3. Dream of 7colors The LEON: Leon besiegt Mariko Yoshida (8:42) mit einem Captured Buster.
4. Dream of 7colors The KAZUKI Ladder Match: KAZUKI besiegt MIKAMI (7:31) mit dem Deep Kiss.
5. Dream of 7colors The YAKO: Takako Inoue besiegt Yako Fujigasaki (5:48) mit dem Destiny Hammer.
6. Dream of 7colors The HAGANE: Hiroyo Matsumoto besiegt Rydeen Hagane (9:53) mit einem Backdrop Suplex.
7. Dream of 7colors The MANAMI: Yumiko Hotta besiegt Manami Katsu (10:34) mit dem Pyramid Driver.
8. Dream of 7colors The HANAKO: Meiko Satomura

besiegt Hanako Nakamori (10:48) mit einer Death Valley Bomb.